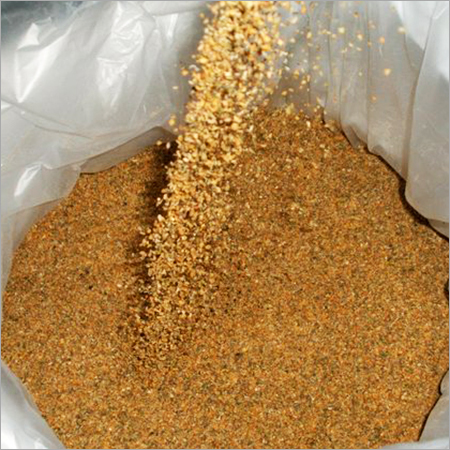 Soyabean Meal Animal Feed
Price And Quantity
Metric Ton/Metric Tons

50
Product Description
Soybean meal is used as human food, in animal feed and phytoestrogens. It is a great protein supplement, as well as a metabolizable energy source. Soybean meal is made from the residue left after extraction of soybean oil. Removal of the oil is utilized in food, and for industrial oils, bio-diesel, soaps, etc.

We offer free-flowing, coarse and granular soybean meals. It is made from clean, Non GMO Soya beans through a series of preparatory processes, followed by a multistage oil extraction. There is a sophisticated and hygienically controlled plant for the processes. Also, soya bean meal processing involves several heat treatments to destroy all its anti-nutritional factors.

Normal soya bean meal has lower protein content compared to dehulled soybean meal. For De-hulled soya bean meal, the crude protein level ranges between 46% to 48%. Soybean meal has a higher value of energy compared with other sources of protein. Also the amino acids in Soybean Meal are very digestible, and the solubility index of the meal is 80% to 85%.

We offer both Normal Soybean Meal and Dehulled Soybean Meal, with consistent protein ingredients. We produce the meal that meets the users' specifications, requirements for protein and fibre. Our Soybean Meal is a well-concentrated source of energy & protein. Further, it is lower in fibre than other many oilseed meals available in the feed market. The Soybeans protein fraction finds its means into soya bean meal as soy protein ingredients for food industry, as a livestock feed ingredient, and for industrial uses like adhesives, paper coatings, etc. Soybean meal is great for nutritionists to develop higher-energy diets.

Applications:

Soybean meal is used for Broilers, Turkeys, Layers, Swine, Beef Cattle, Ruminants, Dairy and Sheep. It is also used as Pet Food, Minor Feed, and in Aquaculture, Food & Industrial. There is a right combination of nutrient characteristics and competitive price. Extremely digestible protein in Soybean Meal gives high levels of amino acids for cereal grain, ideal for Poultry and Swine. It is a perfect solution for Poultry Feed, due to consistency in nutritive content, high crude protein content and ready availability.

When mixed with corn or grain sorghum, soybean meal offers a good balance of essential amino acids required by the poultry. The poultry industry, covering broilers, turkeys and laying hens etc. is the foremost user of soybean meal. There is a high demand for crude protein and amino acids for Broilers, and the soybean meal is the perfect protein source.

Soya bean meal is also preferred for swine diets. Corn-Soybean Meal based diet provides a good balance of amino acids, and can be strengthen with supplemental vitamins & minerals. It is a great complement to cereal grains usually fed to swines. Soya bean meal is a superior protein supplement choice for crude grain based diets. Also, the soybean meal is a good replacement of fish meal in Aquaculture feed due to nutritional properties, consistent availability and price. The demand of the soya bean meal is increasing in aquatic diets, as it offers improved nutritional benefit. Its utilization will improve the effluent characteristics of the aquaculture works.

Soya Bean Meal is used in the food industry, in making textured soy protein, soya chunks and soya-granules. Rich in protein and quick to cook, it is a healthy diet food. Soya Bean Meal is also great for extracting Soya Protein Isolates, having over 90% protein content equivalent to milk proteins.

Soya meal is used in Healthcare Products as well, as it contains calcium and other essential compounds. It contains minerals like magnesium, iron, calcium and folic acid, ideal for Pharmaceutical Industry.

Soyabean Meal Animal Feed

Specifications of Indian Soyabean Meal :

Protein : 46% min
Moisture 9 % max
Fat 1.1 % max
Fibre 4 % max
Ash 7 % max
Urease activity max 0.3 mg n/gm at 30 deg c
Nitrogen 7.3 % min
Nitrogen soluble index 20 % min
Sand silica 0.5 to 0.7 %**
Specifications of Indian De-hulled Soyabean Meal
Moisture # 12% Max.
Fibre # 4% Max.
Oil Content # 1.25% Max.
Protein # 48% Min.
Sand & Silica # 1% Max.
Urease Activity-At 30oC # 0.25mg/g Max.
Contact Us
Lot 3061, Block 26, Kidurong Light Estate, Kemena Land District, Sarawak, Sarawak, 97000, Malaysia
Phone :+60102998650