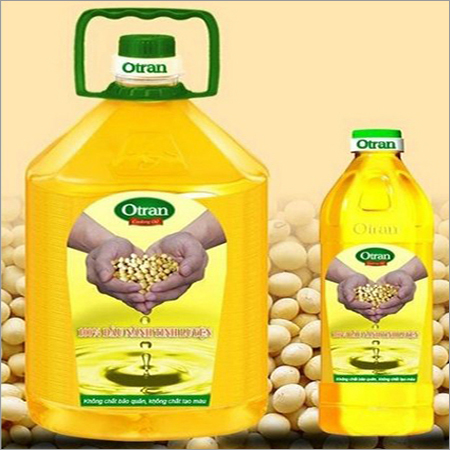 Refined Soybean Oil
Price And Quantity
Metric Ton/Metric Tons

50
Product Description
We offer micro refined soybean oil, which is made using sophisticated centrifugal separators with global technology. Clear & transparent, this soybean oil has bland taste and odor. It helps keep the heart healthy and maintain cholesterol level. Refined Soybean Oil is 85% saturated fat free, and contains over 60% PUFA (Poly Unsaturated Fatty Acids). Containing a broad variety of sterols and triterpenes in natural form, it is unique in nature.
Applications: A. Nutritional Function
Ideal for cooking, and as a salad oil, as it is free from cholesterol, rich in Vitamin-E and low in saturated fat.
Used in food products.

B. Non-Nutritional Function
Alfa Tocopherol content in oil, helps improve immunity, control aging, and cardiovascular diseases.
It is a semi drying oil, and thus used in surface coating industries, such as Varnishes, Paints, Printing Inks, and allied products.
It can also be used for making Core Oils, Blown Oils and Alkyd Resins.
Used in Plasticizers and Epoxidized Oils, to maintain PVC plasticity, and as a stabilizer to increase the stability in Pesticides & PVC.
Refined Soybean Oil is also used for making GMS (Glyceryl-mono-stearate), and metallic stearates after complete hydrogenation of the oil.
It is used for Fortification as well, with anti-oxidant such as BHA (Butylated Hydroxy Anisole) after hydrogenation.
Soyabean Oil

Refined, Bleached & Deodorized, Naturally Expelled Organic Soybean Oil

SHELF LIFE: Minimum of one year at room temperature and dim light.

TYPICAL ANALYSIS:

Appearance: Brilliant Light Golden
Moisture & Volatiles %: .06%
Free Fatty Acid, % max: 0.03%
Total Tocopherols, ppm: 1000
Phosphorus, ppm: 3
Color: Yellow 12.0
Peroxide Value (meq/kg): 0.70 Red 2.0
Iodine Value: 132
Flash Point, Degrees F: 570 Degrees F
FATTY ACID COMPOSITION, %

C16: 0 Palmitic 10.14%
C18: 2 Linoleic 53.10%
C22: 0 Behenic: 0.37%
C17: 0 Margaric 0.11%
C18: 3 Linolenic 7.9%
C24: 0 Lognoceric: 0.12%
C18: 0 Stearic 4.20%
C20: 0 Arachidic 0.20%
C18: 1 Oleic 23.10%
C20: 1 Gadoleic 0
Other: 0.17%
Contact Us
Lot 3061, Block 26, Kidurong Light Estate, Kemena Land District, Sarawak, Sarawak, 97000, Malaysia
Phone :+60102998650